Video reblogged from Neil Gaiman with 905 notes
Wishing Douglas Adams a happy 60th birthday. 
Thank you Neil.  Couldn't have put it better myself.
Photoset reblogged from TieFighters with 2,161 notes
Reblog & Win Signed Star Wars Prints!

One lucky winner will receive all 3 limited edition, signed and numbered prints from artist and tiefighter Pacalin. 

Simply reblog this post to enter (one entry per blog). We will randomly select one winner on Tuesday, February 21st, 2012. 
Seven shades of awesome.  At the very least.   
Yeah, just thought I'd share.
Post with 2 notes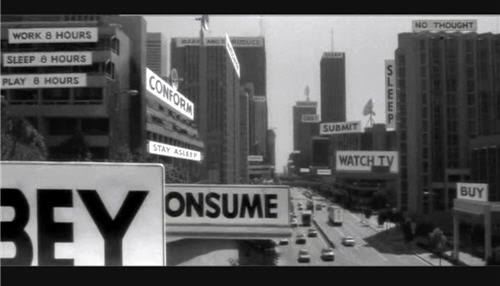 For those unaware of the politically charged 80's B-flick, They Live, Soft Skull Press and author Jonathan Lethem want to bring you into circle of the initiated.  The first entry from Soft Skull's "Deep Focus" imprint, John Carpenter's (Big Trouble in Little China, The Thing, Halloween) 1988 cheesy classic receives a revival of sorts through Lethem's pop culture write-up.  With standout one-liners, pre-dawn-of-computer-graphics-everything special effects, and one of the most memorable fight scenes (which was recreated shot for shot, blow for blow by a pair of paraplegic kids in a South Park episode, don't worry, they were just animated), this film has amassed major cult following.  Now just - OBEY - jot on over to this nice little review, and see what those nice kids at the Portland Mercury have to say: http://www.portlandmercury.com/portland/re-chewing-bubblegum-kicking-ass/Content?oid=3081409
Video with 4 notes
Like Sam Mendes, film director Julie Taymor's career finds its genesis in directing stage performances.  Unlike the gentle way in which Mendes' films speak of his theatrical past, Taymor revels in this distinction, often pulling back and allowing her characters to monologue.  Perhaps the most telling example of this artistic carry-over, reveals itself in Taymor's fascination with William Shakespeare.  Beginning her cinematic career with a sweeping adaptation of the Bard's Titus Andronicus, the film Titus succeeded at merging Shakespearean dialogue with breathtaking imagery.  Now Taymor is at it again with her unconventional retelling the playwright's famous The Tempest.  The casting of Helen Mirren in the lead marks a distinct change, transforming the masculine Prospero into the feminine Prospera.
Link with 2 notes
Filmusik is a native project of Portland, Oregon.  There's something anachronistic about having a live orchestra perform with a film, hearkening back to the pre-talkie days.  Sound-systems grow and refine with the latest technological advance, and there is no denying the powerful presence of Dolby Digital Sound caressing cinema houses audiences worldwide, but some might argue that the presence of live performers keeping time with the film adds a dynamic of interaction with the audience which the sterile and simple act of projecting and amplifying prerecorded data cannot hope to offer.  This weekend the Filmusik group is presenting the efforts of a team-up with the original cast, to put on Will Vinton Studio's claymation film version of The Little Prince, allowing those voice actors to take the stage and recreate the 1979 film's vocal performances.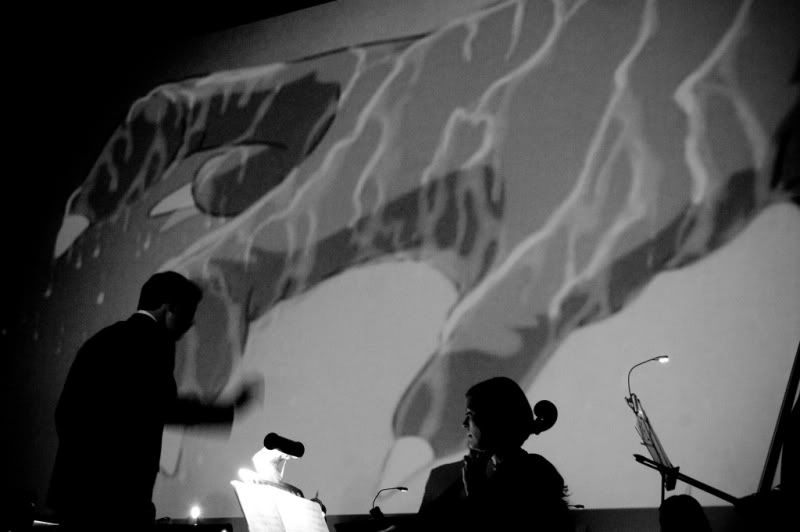 Link with 1 note
Fritz Lang, Volker Schlöndorff, Rainer Werner Fassbinder, Margarethe von Trotta, Jean-Luc Godard, Francois Truffaut, Alain Resnais, Ferderico Fellini, Roberto Rossellini, Guillermo del Toro, Ingmar Bergman, Akira Kurosawa and Sergei Eisenstein are just a few of the monumental international filmmakers whose work is honored with a place among The Criterion Collection (www.criterion.com).  Within the English speaking cinema, directors such as Terry Gilliam, John Cassavetes, Robert Altman, Orson Welles, Alfred Hitchcock, Roman Polanski, Robert Hamer, Spike Lee, Richard Linklater and Jim Jarmusch are among a few of those who have received this distinction.  And while some important contemporary filmmakers (Jean-Pierre Jeunet, John Turturro, John Cameron Mitchell, Sylvain Chomet, Paul Thomas Anderson just to name a few) remain unrecognized, director approved editions and topical, often times academic features in addition to high quality prints, makes Criterion a name with some weight behind it.  With all of that in mind, at recently being informed that massive book retailer Barnes & Noble was offering a winter sale of 50% off all Criterion Collection titles, the first urge was to share this information (the header link). This cinephile is ecstatic, day-dreaming of a cinematic library which recognizes even a fraction of the titles included.
Link with 1 note
This guy is an artist!  I comprehend that Lesch is a trained professor, whose career finds its genesis outside of the realm of popular culture, but it's his ability to present the material with such energy while retaining a comprehensive and comprehensible program.  Perhaps it's just nostalgia, but his work as a moderator puts me mind of all of the aspects of the natural sciences which I find oh so exhilarating.  If only I had an aptitude for mathematics.
Link with 2 notes
A friend recently noted their personal disgust at the events in Albuquerque which led to the canceling of not only the annual film festival, Pornatopia, but all coinciding events to be put on by the Self-Serve Sexuality Resource Center (http://selfserved.blogspot.com/2010/11/pornotopia-censored-show-canceled-in.html?zx=85e967013fb39471).  The events, which promote a "sex-positive world" by showcasing films such as those of Petra Joy, a German filmmaker (the title link addresses her work, in German) whose techniques and aesthetic provide a healthy and positive alternative to masculine and aggressive pornographic films.